I love my folk music
but I have come to it a bit late in life.
My early years interests were Lonnie Donegan, Buddy Holly. Eddie Cochran and most of the rock and Roll era stuff of the 50s and 60s.
Then in the early 60s I joined the army and my interest focused mainly on the pop stuff of those days with "The Beatles" and "the Stones" high up on my list. However somewhere in the background there were bits of folk songs and music coming through.
A lot of the more sugary stuff like Peter Paul and Mary did not really appeal but the odd little gem got through to me. Somewhere in there were people like Alex Campbell, Ian Campbell and later Harvey Andrews.
At the age of 45 I started to learn a bit of guitar. A bit late in life I know but I had set myself a goal to learn the guitar and find out much more about computers.It was to get my head away from the day to day grind of a job that I wasn't enjoying much at the time.
So by way of various little riffs and chords and sore finger ends my tastes in music were widened to take in blues music and then on to British Folk.
The only British folk man I had really developed a liking for was Harvey Andrews. As was usual for a squaddie it was via his song the "Soldier".
So these pages will explore my progress through the folk scene that passed me by for about 30 years but I am endeavouring to catch up on now.
Sad to say many of the people I admire have passed away and I can never now see them live.
Tackeroo Junction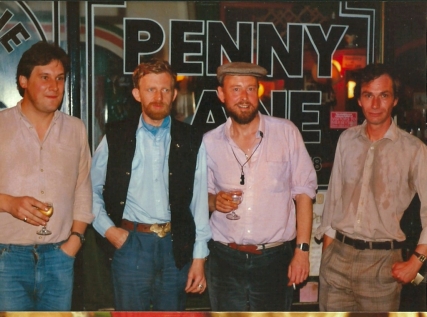 I have just got to know Keith Bradbury who was a member of this group via a facebook page about Hednesford and Cannock.
Its a nice little group who seemed to love what they were doing. Paul Turner who appears on a rather shakey video sadly passed away some time ago. I am sure Tackerroo junction will be remembered by many people in the local Cannock Chase area. Keith is the third from the left.
Miriam Backhouse
Aka Miriam Erasmus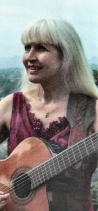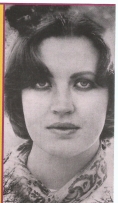 (I pinched this write up from one of the web sites because it is a little better than I could write myself)
Born in Lewes, U.K., traditional folksinger Miriam Backhouse got her professional start on the British folk club circuit in the mid-'70s, and released a solo LP, the Saffron Summerfield-produced A Gypsy Without a Road, in 1977, and the album has become an underground British folk classic over the decades since.
Backhouse moved to South Africa in 1979 with her husband, keyboardist John Erasmus, and made her home in the Valley of a Thousand Hills region there. She released a series of recordings in South Africa on her own imprint, Matriarch Music, as Miriam Erasmus, including 1995's Over Africa and 1996's African Rose (which earned her the lasting nickname of "the African Rose"), and branched out from folk into other musical areas, including appearing as Anna in Steven Stead's production of The King and I. A clear, expressive singer, Backhouse also plays several instruments, including guitar, viola, autoharp, and recorder, and has written hundreds of children's songs, but her forte remains the traditional British, American, and African material that forms the center of her live shows. Summerfield's Mother Earth label reissued A Gypsy Without a Road on CD in 2006, adding two live tracks recorded in 1977 at the Robin Hood Folk Club in Brinsley. Backhouse tours Britain annually while continuing to make her home in South Africa.
Vivien Richardson
A wonderful singer that I have only just come across. go to https://soundcloud.com/vivien-richardson to find the music I refer to. "Dandelion Clock and tumbleweed" is a beautiful song and stired a lot of my own memories of things I should have asked. I don't have a picture at the moment but as soon as I do I will show it. Vivien writes the music and songs, plays Guitar and violin.
The band consists of
Gordon plays Mandolin, octave Mandolin, Bodhran and sings harmonies.
Terry plays accordian, Bodhran and spoons.
Mark plays guitar, Mandolin brass and tin whistle and sings harmonies.
Chris plays Djembe, guitar, Mandolin, Tin whistle and harmonies
Beggars Bridge - Folk Band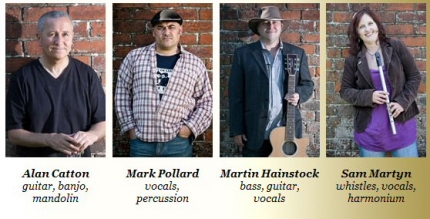 A great little band who have the potential to become a great band of the future Their music is easy to listen to and once listened to you will want to go back for more.
The Staffordshire men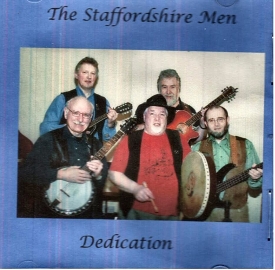 "The Staffordhire Men" are the resident group of "The Chase Folk Club"
They are based in the Cannock Chase area of Staffordshire. It is difficult to pin down their local venues as they have changed over the last year. At the moment they are based in Boney Hay at the foresters Tavern.
The band have a very good reputation and following locally. Wherever they play they are an instant hit. this band deserve more recognition than it gets. I was speaking to some one in Aberystwyth the other day and found that the band were well thought of by many there. If your fame is recognised there you must be good,
Harvey Andrews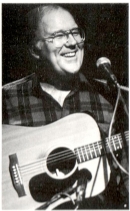 This is where my education ito the folk genre really began. I first heard Harvey in Germany in the 70s. His song the Soldier was a massive hit with most branches of the forces and he was up there with the with the best of the Pop stars of the day.
Apart from the "Soldier" song his other songs explored the news stories of the day and he told it the way it was with no holds barred and all with an English accent.
I rediscovered him a few years later while seeking out a replacement for my copy of "Writer of Songs" which I had worn out years ago. Going through his back catalogue of his songs I got introduced to various other folk singers. There would be a reference in one of his songs about someone like Vin Garbutt or Eric Bogel. I would look up the name and explore their music. Some I could take or leave but people like Phil Oches struck that chord that made the hairs on the back of the neck prickle. The only one I could never get to grips with was Jacques Brel the mad Belgian or what ever he was. But that possibly says more about me than if the man is good or not
Harvey Told me at a gig in June (He still does the odd charity gig just to keep his hand in) that he will be putting a new Album out this year hopefully before Christmas. The first song can be seen at the you Tube below.
http://www.youtube.com/watch?v=73YRvPnYnu8
This is a review I did some time ago on a blog about my favorite folk singer and song writer.
Sunday 1st of June 2011 I went to see Harvey Andrews again, this time at the Hitchen Folk club based in the Sun Hotel.I have never been disappointed with a Harvey performance and this was no exception,He played most of the old favorites including "the mallard" and "writer of songs"He announced that he was only going to do another year and then he is retiring. Like most of us the traveling is getting too much and also more expensive. So those of you who have yet to see this excellent performer should put it off no longer because the lad will not be doing it for ever. Harvey is by far the most talented singer song writer in England and his talents seem to be ignored by the public at large. Maybe its because he is not a self important big head like some of our other Pop talent. He doesent do drugs or booze to excess and he has'nt thrown TVs out of windows and all the other publicity seeking chilish antics that seem to go with the teritory.As you listen to his stories and introductions telling of the way some of his songs came about you get the feeling that here is a man who cares about things and has given a lot of thought before putting pen to paper. His voice is still strong and he can make the hair on the back of your neck stand up from the beauty of it.If you have never seen or heard of the man then you have missed out on the treat of a life time.
Cyril Tawney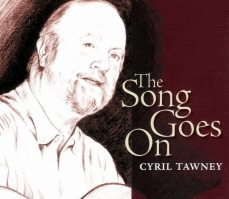 Cyril Tawney is a singer who's music I had heard in the background of my life.
Heard in army barrack rooms and on radios and record players (and later on cassette tapes). Playing just within earshot but never to the forefront of my listening.
Then a few months ago while researching other folk music I came across his name, sought out some CDs, Listened and became an instant fan.
Sadly as with many of the singers I now listen to I will never be able to see a live concert with him in as he passed away a while ago.
His CD productions have versions of old songs that are sung in a way I had never heard before. He breathed new life into old stuff and produced brand new songs of his own.
His version of "The wild rover" is done in a much milder and more beautiful form than the jaded table thumping versions I had sung and listened to in the Army.
In his singing and his voice you could trace his Navy and West Country roots. If I had to define him to any one I would say think of something between Burl Ives and Harvey Andrews and a twist of West Country accent you would be nearly there.
Best CD to pick up and give an idea of the man "The Song Goes on" on ADA Recordings.
Anne Briggs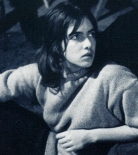 I was listening to a compilation album some time ago when this voice passed the prickle test (it made the hairs on the back of my neck prickle). I looked at the cover to see who it was and found this lady Anne Briggs.
Her voice touched parts that other singers never reach and she has influenced many other singers.
She seems to have had a wild side to her and apparenty was the typical flower child of the 60s and then some. I don't know about any of that I know only that I love her music.
Best to check her out on: Topic Records Anne Briggs. A collection The cover notes give a more detailed history.
Lonnie Donegan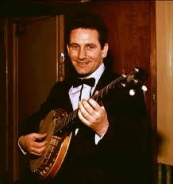 Why would I put Lonnie as a folk singer? Well he was the King of Skiffle and Skiffle was based on a mixture of English and American folk songs just jazzed up into a sort of manic mix. Lonnie himself said that, "if folk sing it then its folk music."
Lonnie explored music from Jazz to old fashioned music Hall. His trail blazing skiffle inspired people to start what the Americans called jug bands.
Jug Bands used anything from washboards to dustbins to make mucic with. Many people started off in these type of bands including the Beatles, the Stones and nearly all of the folk singers started in skiffle groups.
So yes Lonnie should really have pride of place in this list.
He was born in April 1932 in Scotland but grew up on London. He died with very little press coverage in Nov 2002 a talent forgotten by many but I am sure people will go on rediscovering long after I am gone.
Jeremy Taylor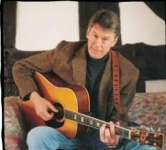 I first heard Jeremy Taylor while serving with the Army in Germany. His record of " Ag Pleez Deddy" which containd words that would now adays be deemed politically incorrect was played on BFN almost daily. The record has been released with more acceptable wording since. Don't get the Idea that Taylor was in any way racist. He was a man that took the micky out of the more bigoted people of this world. below is a statement by the man himself which will show who and what he is. All I can say is I like his humour His lyrics and his way of looking at things.
A Personal Statement from Jeremy Taylor
I first went to South Africa in 1959 immediately after graduating from Oxford University with a degree in modern languages. I took a job as a teacher at a school in Johannesburg and virtually at the same time began writing songs.
I became involved in staging a musical revue, "Wait a Minim!", which surpassed expectations (it was meant to run for two weeks) by finishing its life, seven years later, in Australia after running for two years in London's West End, a year on Broadway and a further year touring the United States.
The revue featured "Ag Pleez Deddy!", a song I had written in the cheerful vernacular of my pupils. It went to the top of the SA charts virtually sealing my fate until the present day. It was printed in full in the New York Times but banned from the SA airwaves on the grounds of linguistic pollution. It nonetheless became an unofficial anthem for white South Africa. Meanwhile "Piece of Ground", penned in 1962 and later recorded in the US by Miriam Makeba, became a rallying cry for black protest movements of the seventies and eighties. From whatever angle I was considered by the South African authorities, quite correctly, as subversive. In 1970 I was banned from re-entering the country.
In the wake of a government reshuffle nine years later I was permitted to return. My one-man show "Back in Town" played to full houses and I resettled in the land to continue chronicling life under apartheid, its dramas, its tragi-comic turns of fate, its fundamental humanity forever at odds with the continuing struggle for political ascendancy.
It seemed meaningless to take sides. Anyone with a concern for justice could not but recognise courage and decency where they found it, often in the most unexpected places.
My inability to take sides left me, after fifteen years of touring my shows, marginalised by the euphoria of "freedom" which, with the elections of 1994, ostensibly marked the end of the "struggle". Talk of rainbows and other wish-fulfilments seemed worryingly at odds with the reality I had been rubbing shoulders with for thirty-five years. Instead of hard-headed governance South Africa was suddenly awash with sentimentalism. The longed-for nirvana was fast becoming, quite simply, reverse apartheid.
Whither South Africa now? Can a land with the highest murder rate in the world (over 22,000 in 2005) be considered a success? Where has it gone wrong? And what has it to do with the rest us?
I like to celebrate the many things that were right with the land and the many qualities that were paramount among its peoples. And I pray that somehow they will prevail.
— Jeremy Taylor
Sarah Makem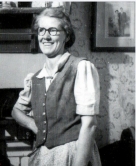 This Lady would not normally be my cup of tea. But she does have some good old Fashioned syle folk ballards. Generally I prefer the English folk to any other kind but some times other stuff takes your fancy. Sarah is best listened to on "The Heart is true" CD which is a Voice of the people production.
Pete Morton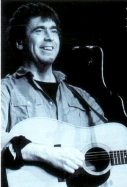 I first came across Pete Morton when he opened the show for Harvey Andrews at Hitchin. Most openers are good singers and performers but with out the stars grip of the audience. Pete was different. His music is a mixture of old and new. He has played and busked all round the world and the experience shows through. I brought his CD "Economy" quite expecting to be underwhelmed because he did not have the song about the post office queue on it. However the CD is a gem and I loved it. If you get a chance to see this man take it because he is good and embodies all the good things about folk music.
Bruce Davies

I met Bruce in person at a Harvey Andrews Concert. I couldn't quite place him and it took me some time to work out who he was. I have since worked out that he was part of Beggars Mantle and is the star of many You Tube clips. The music says it all though. His CDs are mainly cover songs including some nice renderings of Harvey songs. He has paid his dues and is always worth listening to.
Auralia Sky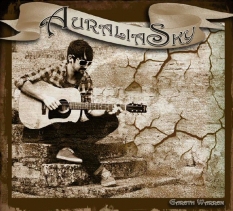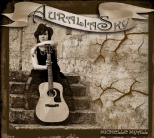 Michelle Myall and Gareth Warren make up Auralia Sky.
Some may not consider them to be a folk band and indeed they declare themselves to be country rock. I find that the music has enough British folk roots to it to be included in these pages. Well worth checking them out if only for the bluesy voice of Michelle and the wonderful guitar of Gareth.
David Gibb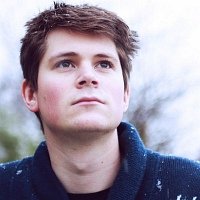 David Gibb is a wonderful fresh talent on the folk scene. Again he may be a tad modern for some folk lovers but to me he is another that passes the hairs prickling test.
His rendering of the old schoolyard favourite "two dead men got up to fight" should not be missed. When he teams up with Elly Lucas they form truly dynamic Duo.
Cerys Matthews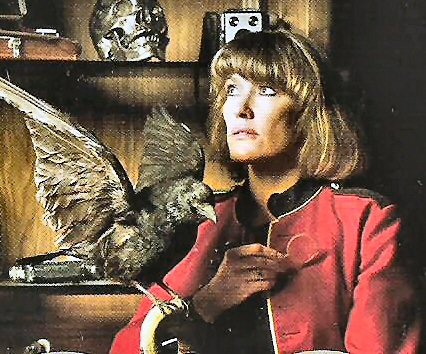 This lady has the voice of an angel. She sings in Welsh and English. Her voice not only passes the Hairs on the neck test but she will make your toes curl from the beauty of her voice.
As with a lot of artists I came across her a bit late. She has been around for quite a while and has been a regular with the likes of Jools Holand but I had not seen or heard her before. I don't really know if she is classed as a folk singer but she should be from all I have listened to. The CD I have most listened to is the TIR CD.
Catherine Howe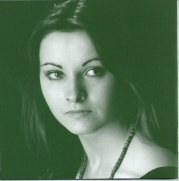 A beautiful singer. Again she is some one I have just happened on. She started her singing career around 1969. She was also an actress and appeared with Patrick Trouton in the Dr who series. For more information you will need to peruse the sleeve notes of her Cd's and records. As I find out more I will add it to this write up. For now lets just say some of her songs pass the neck hair prickle test.
Winter Wilson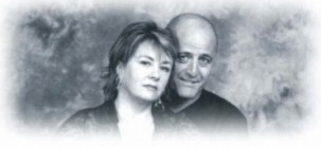 Kip Winter is a scot born in Germany although her Family were living in Holland at the time (According to their website a bad day out). She claims she is a bit of a nomad having lived in Germany, Holland, France, England She already sounds like someone you would like to know more about. Dave Wilson Borne and raised in Sleaford Lincolnshire. Started writing and singing his own songs when he joined Boston Folk club. Says he didn't know many folk songs so made his own up. It works for me because some of the songs are the best of the best. The pair together or separately are a rare treat to listen to.